Dear Sam: I've received a few endorsements on LinkedIn, but I'm assuming they aren't as valuable as recommendations. How do I go about asking people to recommend me? Is this something I should be doing regularly? – Emily
Dear Emily: You can think of your LinkedIn recommendations as your online reviews. Just as a consumer can be influenced to make a purchase based on reviews about a company or product, a potential employer can be persuaded to interview you based on positive feedback publicized on your LinkedIn profile. In fact, the recommendation section has the potential to be the most impactful section of your profile because the comments "prove" that you are a good employee/coworker/service provider/etc.
To clarify, yes, there is a big difference between LinkedIn endorsements and LinkedIn recommendations, and recommendations are much more impactful. Endorsements appear within your skills section. You have the option to add up to 50 skills to your profile, and your connections can validate that you have those skills by "endorsing" you. Adding relevant skills and having coworkers/managers/clients affirm those skills is a simple way to add credibility to your profile and your candidacy. Skills and endorsements are also important because, according to LinkedIn, people who list at least five skills receive up to 17 times more profile views. However, because endorsements can be given with a one-second click of a button, they typically do not carry as much weight as thoughtful recommendations.
Nothing adds as much credibility to your profile as real-world reviews from people who have worked with you. The testimonials can highlight your character, your accomplishments, and the value you bring to a team/company. The more specific a recommendation, the better.
You can either seek recommendations directly from your page or from a connection's profile. From your page:
Click on "Add profile section" on the right-hand side of your screen
Click on "Additional information"
Click the "plus" button beside the prompt "Request a Recommendation"
Follow the instructions to personalize a recommendation request
From a connection's page:
Click on "More" to the right of the "Message" button
Click on "Request a Recommendation"
Follow the instructions to personalize your request
It is always nice to write a recommendation for someone before requesting a recommendation, as they will be more likely to reciprocate. However, be careful about looking too disingenuous and having your recommendations appear to be "tit for tat." The goal is to have more recommendations under your "received" column than your "given" column.
An added bonus to receiving recommendations on your LinkedIn is that you will have additional content to highlight on your resume and cover letter. You can strategically promote your positive commendations either underneath each unique position, or within a standalone section. I've included a few creative examples with recommendations pulled out: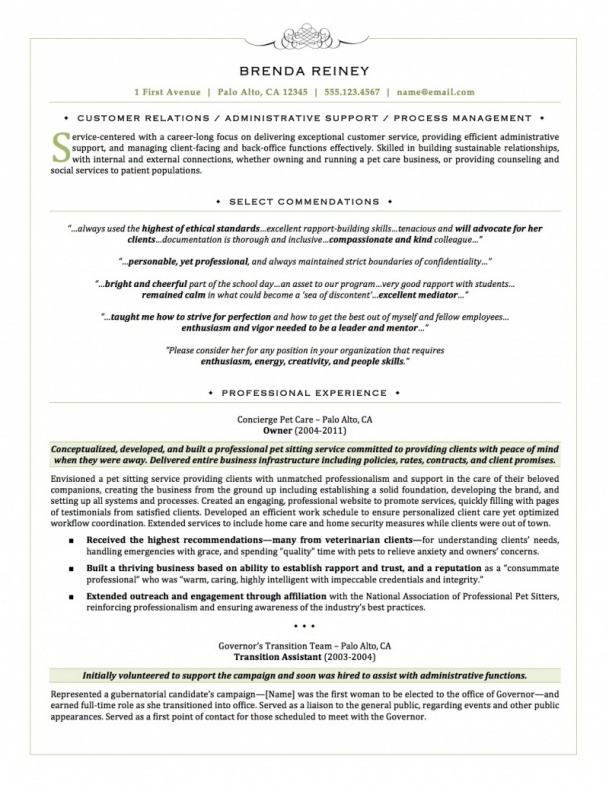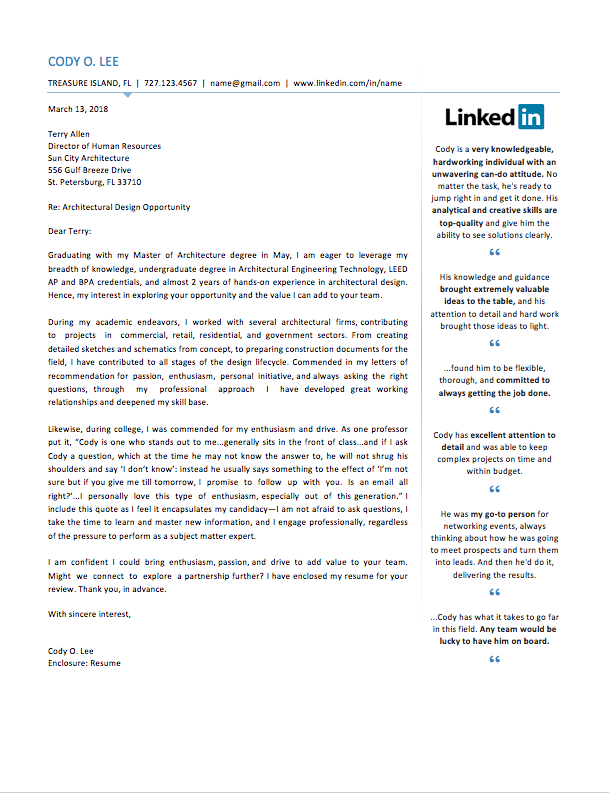 While endorsements are nice to have, they do not compare to the power of thoughtfully written recommendations. It is absolutely worth the time and effort to solicit positive feedback that reinforces your professional brand. Good luck, Emily!